페이지 정보

name
Manager
comment
0
view
2,302
작성일

22-10-31 13:12
본문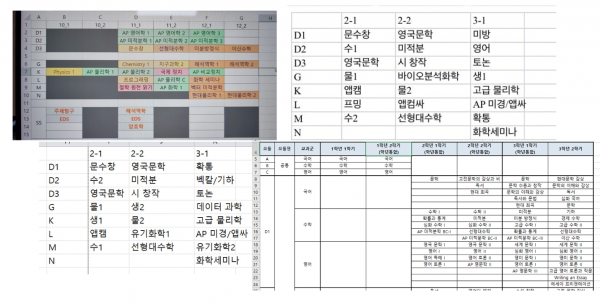 One of the most distinguishable characteristics of Korean Minjok Leadership Academy (KMLA) compared to other schools is the diversity of courses offered. Even more, after completing their first year, every student is able to enroll in whatever courses they wish to, regardless of their grade level or academic interset. This feature was the very reason I applied to KMLA, for I wanted to take courses that aligned with my personal interests, curiosities and academic passions.
In their first year, or grade 1, students do complete many required courses, including those for Math, English, Korean, Integrated Social Science, and Integrated Natural Science. These foundational courses are designed to give students the opportunity to consider various academic fields by experiencing them firsthand. Some students fall in love with subjects they had never considered, while others see their passion for a particular field reinforced.
My first year courses played a major role in helping me decide what to take in grade 2. Given the opportunity to sign up for whatever I wanted, I chose British Literature, AP Biology, Linear Algebra, AP English Literature, Spanish Reading and Writing, and AP Physics C: Mechanics, and others.
I think being able to choose whatever one wants to study a huge privilege. Not only do my current courses enable me to explore multiple fields, they also open the door to advanced learning and concepts. And because "I" was given the opportunity to choose every course I am in, I engage and participate actively and feel deeply attached to each of them.
Honestly, it's like being in college. Registering for your own courses, building your own timetable different from others, and exploring your specific fields of interest. I think that is the best thing one can get from KMLA. 
26th Waver,
Yurim Jin