Visiting Middle School Alma Maters
페이지 정보

name
Manager
comment
0
view
3,125
작성일

22-07-07 10:15
본문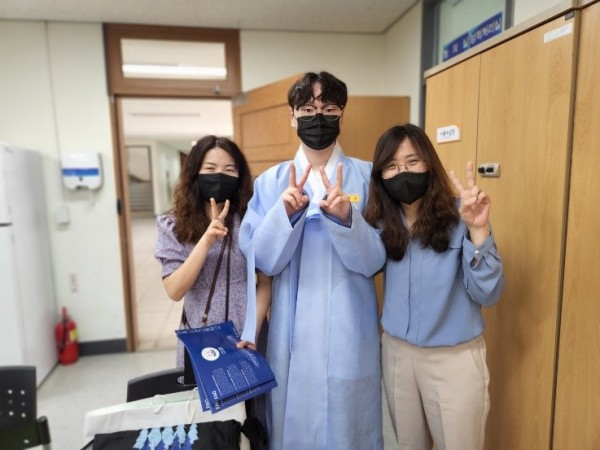 Every year in May, around the time of Teacher's Day, KMLA students return to their middle school alma maters to greet and thank their teachers for their efforts and guidance from years back. KMLA considers the paying of respect to past teachers so important that all classes are cancelled on campus for these trips; this lessens the burden on students and ensures they will have ample time to meet their former teachers. But while this showing of appreciation is the most important aspect of alma mater visits, students also take time to introduce KMLA to their middle school hubees (younger peers).
Alma mater visits took on special meaning in 2022. Because KMLA students were actually able to visit their middle schools, something not possible in the two previous years because of COVID-19. In addition, this year's alma mater visits provided the first chance for grade 3 students like me to finally return to our middle schools.
Before visiting, I reflected on all my teachers had taught me, along with their tireless dedication. When I arrived on campus, I first went to the vice-principal and principal's offices. Unfortunately, because three years had passed since I graduated, both had moved on. Even so, the new principal and vice-principal greeted me warmly and were so proud to learn how well a student from the school was doing at KMLA.
Afterwards, I went to visit the teachers who had taught me. Sadly, my homeroom teacher had also departed. But my Korean, English, and Science teachers were still there. We had wonderful visits. I shared how I was doing at KMLA, like how my classes were going, the club activities I am part of, how delicious the school meals are, and the strong family-like atmosphere between teachers and students. I also thanked my middle school teachers and enjoyed hearing about what they had been up to.
The final part of my visit involved meeting the current students and introducing KMLA to them. Because I was the only student from my middle school ever admitted to KMLA, I was a little worried about how many would attend my session. But when I arrived to the auditorium, there were hundreds of students who welcomed me. This made me feel warm and proud, both for KMLA and my middle school.
I then delivered my presentation, using the PPT materials and pamphlets made by KMLA students. And showed a video about the facilities and daily life of students; I also talked about KMLA's motto and efforts to nurture future leaders. Afterwards, I answered many questions from the students and did my best to provide them honest and constructive advice based on my experiences at KMLA.
25th waver,
Donggun Ra